Supreme Court Panel
A Panel Discussion on the Confirmation Process and the Future of the Supreme Court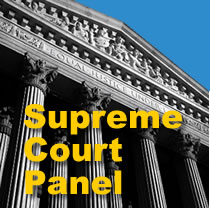 Moderator: Kenneth Starr - Mr. Starr, former Independent Counsel, judge on the US Court of Appeals for the DC Circuit and Solicitor General for the United States, is currently the Dean of Pepperdine Law School. First Among Equals: The Supreme Court in American Life.
Jan Crawford Greenburg - Ms. Crawford is a University of Chicago Law School alumna and legal correspondent for ABC News. Supreme Conflict: The Inside Story of the Struggle for Control of the United States Supreme Court.
Ben Wittes - Mr. Wittes is a fellow at The Brookings Institute, a columnist for The New Republic Online, and a contributing editor for The Atlantic Monthly. Confirmation Wars: Preserving Independent Courts in Angry Times.
The Annapolis Book Festival is Saturday, April 26, from 10 am to 5 pm.
Now in its sixth year, it is an interactive, intergenerational celebration of the written word, fostering a love of literacy and learning in Anne Arundel County.
Hosted by The Key School Parents' Association and held on The Key School campus, the event is free and open to the public and directly underwritten by sponsors from our community.
Nationally-known authors will be on hand to speak about and sign their books.
Parenting Track
Child Development and Parenting: Bobbi Conner - Ms. Conner is the creator and host of the award-winning National Public Radio program The Parent's Journal. Unplugged Play: No Batteries. No Plugs. Pure Fun. Everyday Opportunities for Extraordinary Parenting.
Raising Tweens and Teens: Rosalind Wiseman - Ms. Wiseman is an internationally recognized educator on children, teens, parenting, education and social justice. Queen Bee Moms & Kingpin Dads: Dealing with the Difficult Parents in Your Child's Life. Queen Bees & Wannabes: Helping Your Daughter Survive Cliques, Gossip, Boyfriends, and Other Realities of Adolescence.
Gender Matters: Leonard Sax - Dr. Sax is a family physician and research psychologist with his own private practice in Poolesville, MD. Boys Adrift: The Five Factors Driving the Growing Epidemic of Unmotivated Boys and Underachieving Young Men. Why Gender Matters: What Parents and Teachers Need to Know About the Emerging Science of Sex Differences.
Maggi Ann Grace - Ms. Grace writes of her personal experience of searching for affordable health care overseas when it was not available in the United States. State of the Heart: A Medical Tourist's True Story of Lifesaving surgery in India.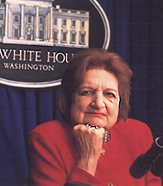 Helen Thomas: The Press
Helen Thomas is a noted news service reporter, a Hearst Newspapers columnist, and member of the White House Press Corps. She has served for 57 years as a correspondent and White House bureau chief for United Press International (UPI). Watchdogs of Democracy?: The Waning Washington Press Corps and How It Has Failed the Public.
Walter Isaacson: Genius
Mr. Isaacson is the President and CEO of the Aspen Institute. Einstein:  His Life and Universe. Benjamin Franklin: An American Life. Kissinger: A Biography. The Wise Men: Six Friends and the World They Made.
Tom Oliphant: The Bush Presidency
Mr. Oliphant was a correspondent for The Boston Globe for over 35 years, serving for more than half that time as a Washington, DC based columnist. Utter Incompetents: Ego and Ideology in the Age of Bush.
Martin Smartt Bell: Toussaint Louverture - Patriot of Haiti
Toussaint Louverture:  A Biography. Charm City:  A Walk Through Baltimore. The Stone that the Builder Refused. Master of the Crossroads. All Soul's Rising. Mr. Smartt Bell is a professor at Goucher College where he directs the Kratz Center for Creative Writing. His novel All Souls' Rising was a finalist for the 2004 National Book Award and nominated for the PEN/Faulkner Award.
Steven Frantzich: C-SPAN's Beginnings
Mr. Frantzich is a professor of political science at the U.S. Naval Academy and the author of numerous books on the American political process. Founding Father: How C-Span's Brian Lamb Changed Politics in America. Citizen Democracy: Political Activists in a Cynical Age (People, Passions, and Power).
Women in Politics Panel
Moderator: Dee Dee Myers - Ms. Myers  was White House Press Secretary during the Clinton administration and was the first woman to serve in that position. She is currently a political analyst and commentator for MSNBC and a contributing editor for Vanity Fair. She is the author of Why Women Should Rule the World.
Glenn Kessler - The Confidante: Condoleezza Rice and the Creation of the Bush Legacy. Mr. Kessler is a diplomatic correspondent for The Washington Post.
Marc Sandalow - Madam Speaker: Nancy Pelosi's Life, Times, and Rise to Power. Mr. Sandalow is a former DC bureau chief for The San Francisco Chronicle.
Don Van Natta Jr. - Her Way: The Hopes and Ambitions of Hillary Rodham Clinton. Mr. Van Natta, Jr. is an author and investigative correspondent for The New York Times, where he was a member of three Pulitzer Prize-winning teams.
Health Care In America
Moderator:  Susan Dentzer - Ms. Dentzer is head of the Health Care Policy Unit at The NewsHour with Jim Lehrer on PBS.
Shannon Brownlee - Overtreated: Why Too Much Medicine is Making Us Sicker and Poorer. Ms. Brownlee is a writer whose stories, essays, and opinion pieces about medicine and health care have appeared in numerous publications. She is a senior fellow at the New America Foundation.
Jonathan Cohn - Sick: The Untold Story of America's Health Care Crisis - and the People Who Pay for It. Mr. Cohn is a senior editor at The New Republic magazine, a media fellow at the Henry J. Kaiser Family Foundation, and a senior fellow at Demos, a non-partisan public policy center that is headquartered in New York City.
Phillip Longman - Best Care Anywhere: Why VA Health Care Is Better Than Yours. Mr. Longman is a senior fellow at the New America Foundation.
Family Performances in the Amphitheater
Books! The Magic is Real! - Joe Romano returns to the Annapolis Book Festival for the third time to present his show that brings books to life through the art of magic and illusion.
Gayle Danley and the Poetry Slam - International poetry slam champion Gayle Danley will both entertain and lead families in creating their own slam poetry.
Nada Brahma - Nada Brahma's high-energy performances provide an exciting introduction to world music, including songs and instruments from the Caribbean, Andes Mountains, Central and South America, Australian Outback, Sub-Saharan Africa, Middle East and North America.
Children's Tent
Ongoing All Day on the Pre-School Playgroud
Storytelling and activities geared towards younger children